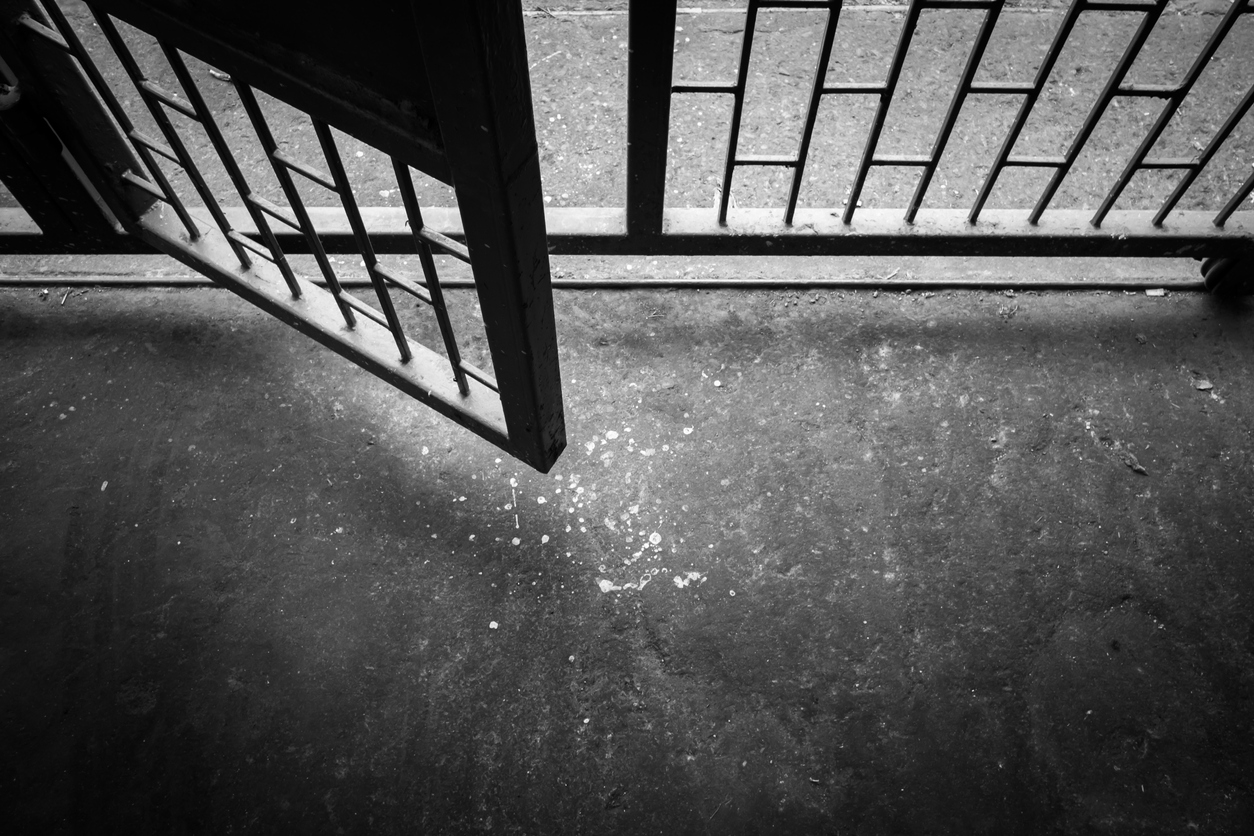 12 Jan

With A Handful Of Days Until FSA Deadline, Court Says Keep Waiting

Posted on January 12, 2022

For more than a year, federal courts all over the U.S. have told the thousands of people in Bureau of Prisons (BOP) custody who have been working diligently to earn time credits under the First Step Act (FSA) that all they had to do was wait until Jan. 15, 2022, to receive them. Once that FSA deadline arrives, courts have said, the BOP will finally provide the FSA time credits that thousands of incarcerated people have earned over the past two years.

Even the Department of Justice (DOJ) has identified the date as the deadline for it to provide FSA time credits. For instance, in a brief for a case called Stasa v. Yankton FPC, Warden, one Assistant U.S. Attorney argued that the prisoner's "claim [was] premature because the Bureau is not required to provide the incentives component of the Risk and Needs Assessment System until January 15, 2022." But once that deadlines comes, the DOJ said, incentives — including time credits — are "required."
The Jan. 15, 2022 deadline is less than 72 hours away. But courts are still want you to wait.
But, with less than 72 hours to go until the Jan. 15, 2022 deadline, courts still won't substantively address the BOP's failure to provide any FSA time credits. Most recently, in a decision issued in a case called Rios v. Thompson, a California federal judge declined to address whether an incarcerated person was entitled to FSA time credits until Jan. 15, 2022, passes.
"The court declines to interpret the FSA as rendering any claim regarding time credits unripe until the expiration of the FSA's 'phase-in' period," Chief United States District Judge Kimberly J. Mueller of the Eastern District of California wrote. Accordingly, the judge granted the government's motion to dismiss and dismissed the prisoner's lawsuit.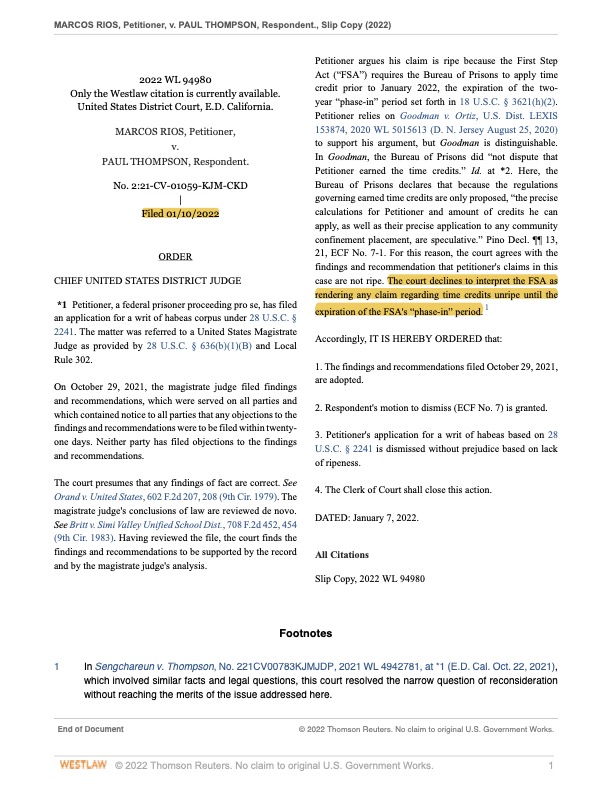 For incarcerated people, this just-wait approach may well mean days or months of illegal detention.
On paper, waiting until the Jan. 15, 202o deadline sounds simple. Wait until Jan. 15, 2022. If, by then, the BOP hasn't provided you with the time credits you've earned, refile your lawsuit. Then, the logic goes, courts will intervene. What these courts don't acknowledge, however, is that this likely means the U.S. will illegally detain thousands of people for days — and maybe longer.
For example, the incarcerated person in Rios v. Thompson, Marcos Rios, claims that he has earned 273 days of FSA time credits. If accurate, that means he should have been released on Sept. 15, 2021. On the other hand, if he hasn't earned any at all, the BOP won't release him until Feb. 20, 2022. Consequently, Rios asked the court to order his immediate release "to home confinement, [a] halfway house, or early release to supervised release."
This timeline is all reflected in the "Factual and Procedural History" section of Magistrate Judge Carolyn K. Delaney's underlying report and recommendation in the case. And nothing in that report and recommendation challenges Rios's calculation of his FSA time credits. But the magistrate judge and the chief judge both accepted the DOJ's argument that Rios had to wait until Jan. 15, 2022, anyway.
Even if the BOP released Rios on Jan. 15, 2022 — which seems unlikely given the fact that it's a Saturday and is less than 72 hours away — he would have spent an extra three months in prison according to his unchallenged calculation of FSA time credits. The most likely outcome is that the real result is even worse.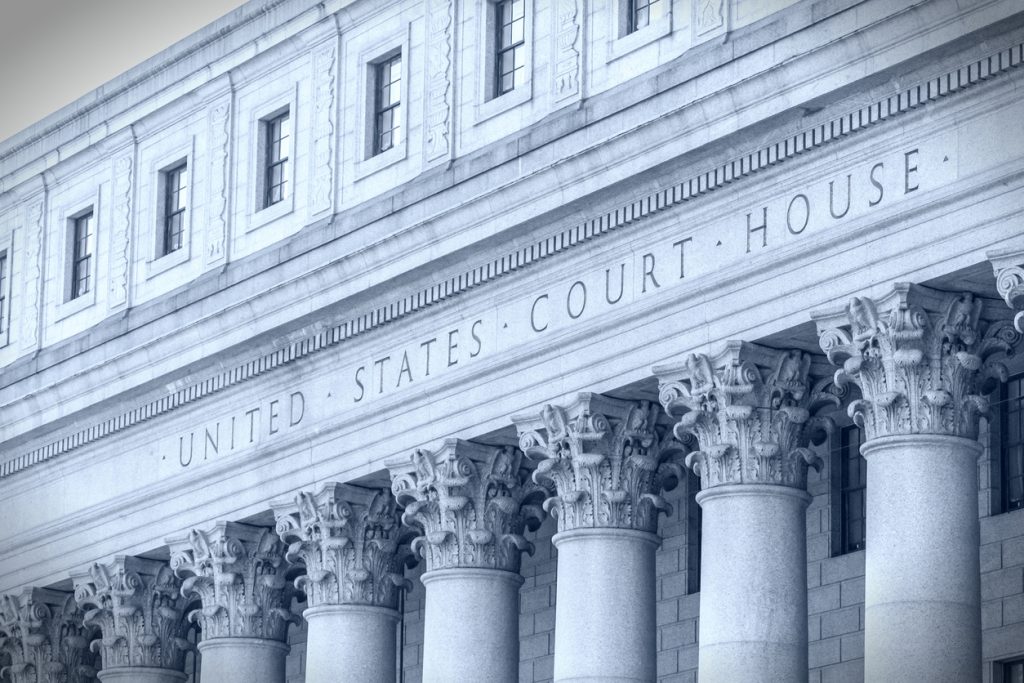 For Rios, his participation in First Step Act programs and activities was expenses — and purposeless.
According to the BOP's "Inmate Locator" tool, it won't release Rios until Feb. 20, 2022. That means that the BOP won't provide a single FSA incentive to Rios even though he has successfully completed FSA evidence-based recidivism reduction (EBRR) programming and productive activities. Put more simply, all of his FSA program and activity participation was for nothing.
It costs American taxpayers around $40,000 to lock up one person in the BOP custody every year. And this number is on the rise. In 2019, the cost was $35,347. In 2020? $39,158. When the Office of General Counsel (OGC) releases its 2021 figures, that number will probably be around $43,000.
Between the costs of incarceration and the costs to provide FSA programs and activities, how much money do U.S. taxpayers spend unnecessarily incarcerating Rios for the past three months? How much more will it spend until the BOP releases him in February? If his calculations of FSA time credits prove correct, how much will taxpayers pay in damages for his illegal detention?
And maybe the easiest question of them all: Do you really want your tax dollars paying for this kind of thing?