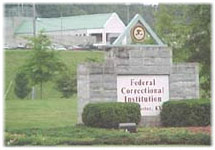 13 Jun

BOP Book Deal at FCI McCreary Just The Tip Of The Iceberg

In March, Kevin Ring, the President of FAMM, shared on Twitter an Inmate Bulletin from FCI McCreary. In the bulletin, BOP staff advised that "[b]eginning March 20, 2022, inmates will be required to make All book and magazine purchases through BooksNThings Warehouse." At the time, we did a deep dive into FCI McCreary's policy, explained why it violates FCI McCreary's own Admission & Orientation Handbook and asked questions about why a federal prison in Kentucky would enter into such an exclusive deal with a seemingly random New Jersey book company. As it turns out, FCI McCreary's book deal with Books N Things Warehouse, Inc., is just the tip of the iceberg when it comes to the BOP.
The BOP book deal at FCI McCreary came a year after a similar move at FCI Manchester.
For most people with loved ones in federal prison, the BOP book deal between FCI McCreary and Books N Things wasn't a surprise. Shortly after we published our deep dive in March, we heard from many families and other organizations about similar book deals at other BOP facilities. There's no better example of these book deals than the one at FCI Manchester that started almost a year earlier. In February of last year, NYC Books Through Bars shared on Twitter an Inmate Bulletin from FCI Manchester. As you can see, it's very similar to the one from FCI McCreary.
"Effective February 8, 2021, the following procedures will be implemented for ordering any book," the bulletin starts. "There will be a book 'catalog', placed in Education. The catalog will be the only vendor authorized. Only books deemed appropriate will be authorized into the facility." In addition to only permitting books from one "authorized" "vendor," the bulletin also prohibits family members from ordering or sending books from any other source. "Additionally," the bulletin states, "any books ordered through any other vendor or purchased by family members will not be accepted into the facility."
The vendor? The bulletin identifies "R Hamilton" as the "Last Name or Company Name" and "Edward" as the "First Name." If you Google search "Edward R Hamilton books," you'll find HamiltonBook.com, LLC. Someone with personal knowledge of FCI Manchester's policy confirmed this information as well. And, according to the company's privacy policy, it appears as though the two companies (Edward R Hamilton Bookseller Company and HamiltonBook.com, LLC) are at least related.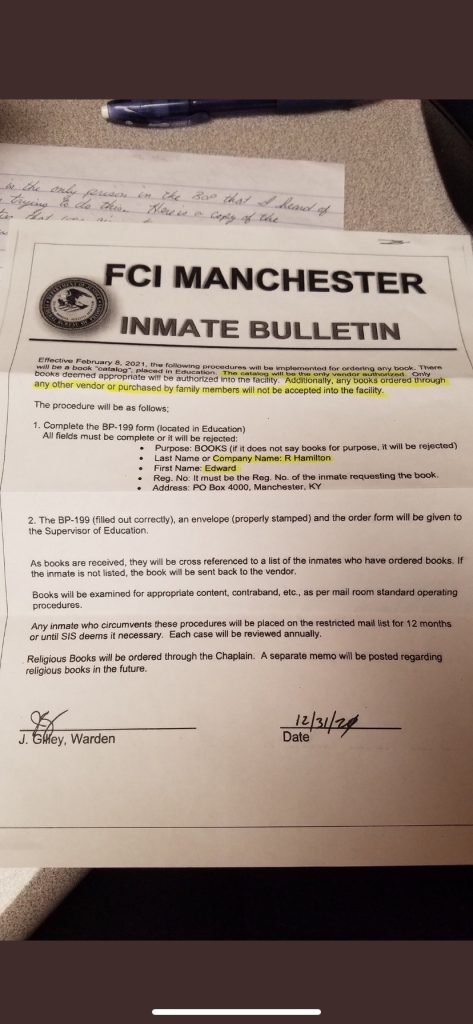 What does HamiltonBook.com do so well that made the BOP give them an exclusive deal?
Much like with Books N Things, HamiltonBook.com only has a post office box: PO Box 15, Falls Village, CT 06031-0015. But the Better Business Bureau identifies another address (147 Route 7 S, Falls Village, CT 06031-1603) as the company's location. That address is apparently home to a single-family house, according to Realtor. This street address shows up on Foursquare, Manta and several other websites as well. This address has ties to the name "William Hamilton" (or "Bill Hamilton") on NeighborWho. And ZoomInfo identifies "Bill Hamilton" as HamiltonBook.com's Vice President.
As for the books they sell, the prices actually aren't terrible. For instance, 24: Life Stories and Lessons from the Say Hey Kid by John Shea and Bob Costas sells for $5.95 on HamiltonBook.com. That's significantly less than the $13.14 price you'll find on Amazon. It's fair to question why this book from May 2020 is the newest "Sports" book they offer. But, in terms of price, they're at least competitive.
When it comes to customer service, their online reviews seem hit or miss. On Facebook, for instance, HamiltonBook.com received 4.5 out of 5 stars. By itself, this obviously sounds like a positive. But it only takes a review or two before you start wondering about their customer service. "Ordered a blu ray from over a week ago. Says it shipped but usps says they never received the item from Hamilton books," one Facebook user posted. "Tried contacting them through their website, but no response. Very unprofessional. Will not be shopping with them again."
If Books N Things and HamiltonBook.com don't have well-known reputations, why does the BOP use them?
Why did FCI McCreary pick Books N Things? Why did FCI Manchester pick HamiltonBook.com? For now, no one seems to know. But companies like these seem to be a favorite for book deals by the BOP. And the BOP isn't alone in this regard. The Somerset County Jail in Madison, Maine, forces incarcerated people to use Books N Things and HamiltonBook.com, too. (But the Maine jail also allows books and magazines from Amazon as long as they are new.)
It'd be one thing if these exclusive book deals were the only problem. But they come at a time when we can't go more than a week or two between headlines about book bans in U.S. prisons. Just a couple of weeks ago, for instance, NBC News published an aptly titled piece on how harmful book bans can be: "Book bans in prison cut inmates' lifeline to outside world." In the article, authors Natalie Bennett, Priscilla Thompson and Kevin Urgiles outline how "[b]ooks about Black and Indigenous people, Latinos and the LGBTQ community are often banned in prisons…." As a result, these prisons "cut[] off a lifeline for prisoners to the outside world and dull[] an important tool for reducing recidivism."
Not even two weeks later, NPR published a piece with an equally damning title: "Michigan prisons ban Spanish and Swahili dictionaries to prevent inmate disruptions." According to author Michelle Jokisch Polo, correctional staff is worried about incarcerated people speaking a language staff doesn't understand. "If certain prisoners all decided to learn a very obscure language," Chris Gautz, the spokesperson for the Michigan Department of Corrections, said, "they would be able to then speak freely in front of staff and others about introducing contraband or assaulting staff or assaulting another prisoner."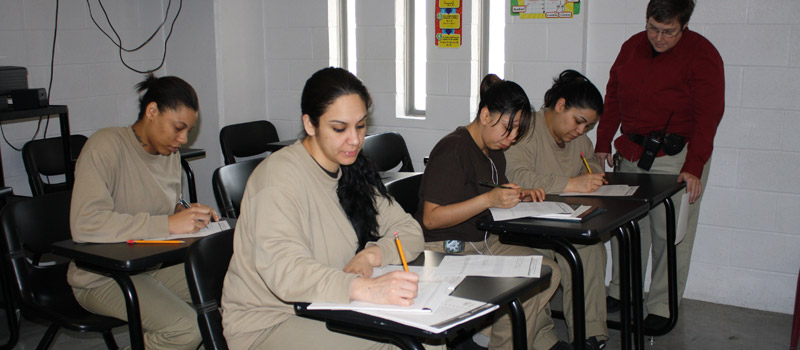 Everyone knows reading reduces recidivism. So, why are correctional facilities against it?
As Ephrat Livni put it in her article for Quartz more than half a decade ago: "Reading reduces recidivism." As Livni noted, "[t]he US Bureau of Justice Statistics reports that 75% of released inmates are rearrested within five years—which is not just a societal problem, but also a major taxpayer expense." "Yet," she says, "a cheap, effective, and simple solution exists…." And that cheap, effective and simple solution is reading. But, more and more every day, correctional facilities are making it harder for incarcerated people to get books. And, at the same time, they're drastically limiting the books that are available to them.
So, if these officials aren't interested in reducing recidivism — and, as a result, taxpayer expense — what are they interested in?